Mobility Amid COVID: Transportation Solutions for a New Era
Written by
Katherine Walker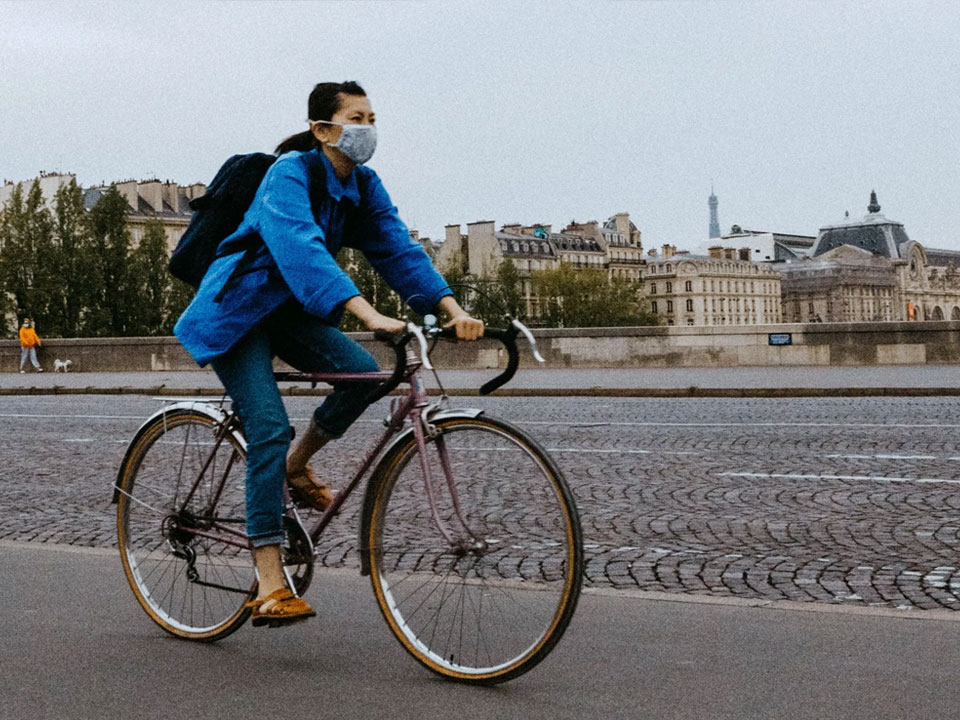 In this article, I explore the intersection between mobility, climate change, and technology as a follow up to my prior article on Mobility During COVID-19 and the Corresponding Environmental Impact published earlier this year in April. As some forms of mobility, such as driving and walking, have resumed since the lows experienced in March, public transit ridership remains notably depressed. While communities continue to work remotely when possible and avoid public spaces in fear of COVID transmission, what burgeoning technology solutions can help bring people together? More specifically, how can people connect in a way that is safe for our public health and our planet? As an avid biker, I am most excited about the developments in electric bike micro mobility, such as VanMoof, Cowboy, and Dance, as well as smart city transportation solutions, such as Glydways, Hytch Rewards, and Streetlight Data. I am hopeful that from this crisis, we can mobilize towards a better future.
"The choice facing the world isn't between climate and growth.

When future generations look back on how countries responded to the worst public health crisis and largest economic shock in a century, what will they see?

Will they see leaders who were stuck in old ways of thinking and tried to save the declining technologies of the past? Or will they see leaders who recognized the opportunity to build a better, smarter future — and turned a devastating crisis into a turning point?"

-Michael Bloomberg (June 9, 2020)
In the United States, we have long idealized car culture as a symbol of freedom and the American Dream. I'm not exempt from this. As a naturally curious person who loves to explore new places and learn about local history, I have travelled to over 35 US states and road tripped through almost 25 of them from Highway 1 to Route 66 and the Blue Ridge Parkway.
While domestic road trips are a tempting option right now amidst international travel restrictions, I have an even more preferred way to explore: the bicycle. The bicycle may seem like a simple product invention, but its history is actually more nuanced than one may expect.
Wiebe Bijker's book "Of Bicycles, Bakelites, and Bulbs: Toward a Theory of Sociotechnical Change," which I first read for Robert McGinn's Science, Technology, and Society ("STS") course as an undergraduate at Stanford University, explores the sociotechnical factors that led to the modern bicycle. In the 1880's, technological developments (i.e., low-wheeled bicycles, rear wheel chain, pneumatic tire) contributed to, and in turn were impacted by, changing attitudes about Victorian women (i.e., ability to wear shorts and travel independently — phew!). The combination culminated in the widespread adoption of biking by men and women of all ages in an unprecedented manner.
200+ years later, pedestrians are once again turning to the bicycle as an important mode of transportation during the current pandemic. In March 2020, when the pandemic first swept the United States, bike sales jumped 121% for leisure bikes and 66% for commuter and fitness bikes. Plus, Peloton sales surged with hardware owners up 94% YoY and app subscribers up 64% YoY in the third quarter.
The trend toward bicycle (re)adoption has occurred globally. In Europe, cities that were initially hit hard by COVID-19 like Milan and Paris created space for additional bike lanes to facilitate socially distanced transportation and recreation during lockdown. In Milan, the Strade Aperte ("Open Roads") initiative closed 35km of streets to cars to make room for cyclists and pedestrians. Around Paris, the region plans to build a 650km bike network, colloquially known as the "corona cycleways." Cities around the world from Bogota, Mexico City, and New York City look to make similar changes.
What's particularly interesting to me about these initiatives is that governments are motivated to keep cars off the road — and in turn reduce pollution — even after cities reopen. As transportation is the largest source of US greenhouse gas emissions, we are presented today with the unique opportunity to re-imagine the future of mobility in a sustainable and enduring manner.
The rapid shutdown of business and travel activity holds the potential to result in the largest annual drop in CO2 emissions recorded in history. The U.S. Energy Information Administration predicts that US energy-related carbon dioxide ("CO2") emissions will decrease by -10.0% in 2020. This represents a >3x decrease from the -2.8% decline experienced in 2019.
However, economic recessions are often followed by a ramp in industrial activity to jumpstart the economy. For example, during the prior US financial crisis in 2009, CO2 emissions dropped -1.4% before increasing +5.1% the following year (Source). How do we ensure that 2021 does not follow this same trend?
Within the Geodesic portfolio, companies like Uber are taking action to respond and adapt to the new environment. Uber CEO Dara Khosrowshahi recently announced Uber's commitment to 100% zero-emission transport by 2040 and expansion of its Uber Green rewards program. Additionally, Uber's recent acquisition of Routematch strengthens its partnership with local transit. Now, Uber app users in Marin are able to select Marin Transit's on-demand ride service, Marin Connect, and receive discounts on Uber rides to local transit hubs. The overall objective is to foster connectivity in urban settings and promote accessible public transportation networks.
Uber's new public transit partnership encourages a return to public transit ridership, which has fallen precipitously as employees work from home and avoid COVID transmission. Even as other forms of transportation, such as driving and walking, resume to pre-COVID levels, transit ridership remains down in the US. Caltrain daily ridership, for example, dropped from 65,000 to lows of 1,500 on an average weekday basis.
This contrasts with Tokyo and Paris transit ridership, which has recovered to pre-COVID levels. My colleagues at Geodesic Japan have commented that cultural norms around wearing masks and not talking on trains have likely prevented super spread events on Japan's infamously crowded trains and encouraged pedestrians to feel safe returning to trains.
Personal vehicles — cars, bikes, and scooters — provide a safe alternative to public transit. Despite the recent surge in "COVID car" purchases and car prices, KPMG predicts that long-term driving mileage will end up at 9% below pre-pandemic levels, which is the equivalent of taking 14 million cars off the road. Even Mayor Bill de Blasio is asking New Yorkers not to buy cars as they are a thing of "the past". What is the future? What has the potential to replace cars? I'm most bullish on the technologies that enable us to solve the dual crises of mobility and climate change. Below are some of my favorite ideas:
Electric Bike Solutions: VanMoof is a leader within the ~$10 billion e-bike category and is differentiated in its vertical integration across supply chain, distribution, and maintenance. Cowboy and Dance facilitate the consumer experience by elongating battery life and providing e-bike subscription services, respectively. This category is expected to grow 25% annually to $46 billion by 2026, with Asia Pacific leading the way with ~85% of global market share.
Transportation Solutions: Operating small autonomous electric cars on fixed guideways, Glydways is hailed by Vinod Khosla as a possible mass transit solution that could dramatically reduce the need for cars and, in turn, reduce carbon emissions. Hytch Rewards joins Glydways in the mission of removing the number of cars on the road by encouraging low-emission commuting through cash incentives.
Meanwhile, StreetLight Data provides the mobility data required for government and business leaders to challenge our assumptions about how people move in order to build smarter city infrastructure. StreetLight's data shows significant mode switching from transit to bikes, which is the type of information that is helpful for government transportation agencies when determining how to use public space, such as Milan's Strade Aperte initiative previously discussed. Strava Metro also provides free data to cities to improve urban mobility.
We're in an unprecedented inflection point when the status quo has been disrupted and governments, companies, and communities are willing to work together to drive better outcomes. For entrepreneurs and venture investors, the current confluence of sociotechnical factors leads me to believe that we are on the brink of the next seismic shift in mobility. Today is a moment that future students will learn about in STS classes.
My final thought is an ask: when you're thinking about buying your next car or driving to meetings, consider dusting off your old bike or consider the suite of cutting edge mobility startups instead. Now that the air quality in the Bay Area is healthy enough to spend time outdoors again, I'd love to ride with you and talk more about the future of mobility and how we can re-imagine a better 2021 and beyond.
—
Additional Resources: